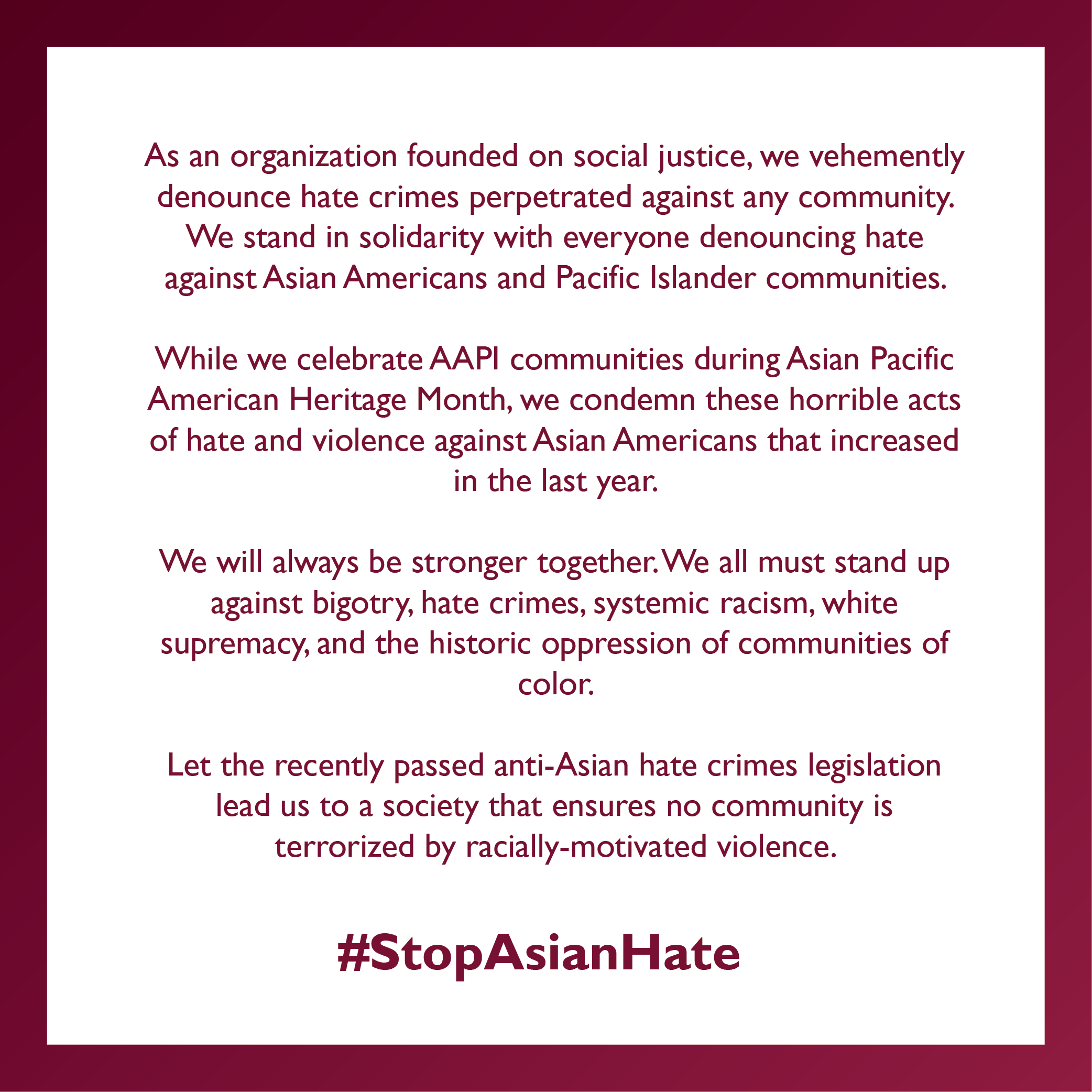 Sea Mar Community Health Centers vehemently denounces hate crimes perpetrated against any community, and stands with Asian American and Pacific Islander communities. The violence directed towards the Asian American community in the past year illustrates how widespread hate against people of color is in the United States. Hate crimes against Asians and Asian Americans in the U.S. is nothing new. The instances of violence experienced during the COVID-19 pandemic has shown this is not an aberration, but a continued pattern of violence committed against Asians going back to the founding of this Republic.

"He Had a Bad Day" – this is how Cherokee County Sheriff's Captain Jay Baker described the disposition of the killer of eight individuals, mostly Asian Americans, and six of them Asian women. This same sheriff, a high-ranking law enforcement official, harbored anti-Asian views as depicted on his Facebook page which indicates that individuals sworn to protect the public can and do perpetrate anti-Asian views. This lack of empathy and sympathy from law enforcement officials is why so many victims of hate crimes do not report their victimization.

On March 16, 2021, a white man named Robert Aaron Long opened fire in three different Atlanta area spas, killing eight people. This violence, specifically directed toward Asian American women and Asian American owned businesses indicates this was not only a crime of hate, but also the killer specifically targeted Asian women. Long is accused of taking the lives of eight people. Cherokee County officials have identified the victims as Ashley Yaun, 33; Paul Andre Michels, 54; Xiaojie Tan, 49; Daoyou Feng, 44; Hyun Jung Grant, 51; Suncha Kim, 69; Soon Chung Park, 74; and Yong Ae Yue, 63. Elcias R Hernandez-Ortiz identified by police as injured.

This tragic event comes as our nation has seen an increase in Anti-Asian rhetoric and hate crimes perpetrated against Asian Americans. We continue working to understand how White supremacy and male supremacy contribute to such violence and racism in our country. According to the New York Times, Asian Americans were targeted in nearly 3,800 hate incidents in the last year, a number considered significantly underreported, with incidents ranging in severity from harassment, name-calling, and shunning, to physical or deadly assault. According to the FBI, Washington state ranks fourth in the nation for its number of hate crimes perpetrated annually.


Anti-Asian and Anti-Pacific Islander hate is not a new phenomenon in America, and indeed there is a lengthy history of systemic racism perpetrated against Asians, Asian Americans, and Pacific Islanders in the U.S. that undoubtedly contributes to the continued racism against these communities that we see occurring today. There is little doubt within BIPOC communities that in the past four years, hate groups have been emboldened to crawl out of their abysses. The anti-Asian response to the COVID-19 pandemic highlights the pervasive racism and hate directed toward Asian American and Pacific Islander communities that has been continually at play throughout our country's history. For example, in 1854, the U.S. Supreme Court reinforced racist ideologies related to people of Asian descent, declaring in People v. Hall that people of Asian descent could not testify against a white person in court, removing accountability for white people who committed Anti-Asian violence.

For many, eradicating hate remains one of the central goals of society. However, we remain mired in what seems like a perpetual cycle of crimes committed against communities of color. Perhaps overwhelmed by the constant violence and racism, individuals and communities retreat due to fear that hate, racism, and discrimination impose, but as a society, we must find a solution. On May 20, 2021 President Joe Biden signed the COVID-19 Hate Crime Act into law. We applaud the Biden Administration for taking a step in the right direction by enacting this. The law directs the Justice Department to designate a point person to help expedite the review of potential COVID-19 related hate crimes and incidents reported at the federal, state or local level, along with making it easier to report hate crimes.

The United States has never confronted its racist origins, which many believe has allowed racism and hate to fester and expand where it now poses a threat to democracy. Within our organization, our DEAR (Diversity, Equity, and Anti- Racism) committee members have started a series of discussions called "Courageous Conversations," where groups gather to have safe dialogues related to race and other challenging or uncomfortable conversations. Maybe this is where it all begins, by talking to each other and understanding how exposure to virulent hate is costing lives and creating a society of disunity and fear. It is our hope to expand "Courageous Conversations," and that Sea Mar employees will volunteer to attend these important gatherings. As an organization we remain committed to encouraging everyone including our staff to speak out about these injustices, and to be actively anti-racist.





"Atlanta Shootings: Spa Shooting Victims Identified after Arrest." BBC News, BBC, 17 Mar. 2021,
www.bbc.com/news/world-us-canada-56433181

Brockell, Gillian. "The Long, Ugly History of Anti-Asian Racism and Violence in the U.S." The Washington Post, WP Company, 18 Mar. 2021
www.washingtonpost.com/history/2021/03/18/history-anti-asian-violence-racism/

"California, New York Report Highest Numbers of Hate Crimes." U.S. News & World Report, U.S. News & World Report,
www.usnews.com/news/best-states/articles/2020-11-17/fbi-report-california-new-york-report-highest-numbers-of-hate-crimes

"Column: Coronavirus, the Outbreak Narrative and How Our Fear Fuels Our Xenophobia and Racism." Los Angeles Times, Los Angeles Times, 3 Feb. 2020,
www.latimes.com/california/story/2020-02-03/coronavirus-outbreak-narrative-xenophobia

Graham, Ruth. "Live Updates: 8 Dead in Atlanta Spa Shootings, With Fears of Anti-Asian Bias." The New York Times, the New York Times, 17 Mar. 2021,
www.nytimes.com/live/2021/03/17/us/shooting-atlanta-acworth#hate-crimes-against-asian-americans-community
Copyright ©2010-2022: Sea Mar Community Health Centers